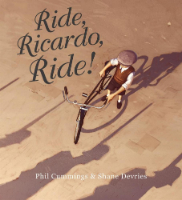 Title
Ride, Ricardo, Ride!
Author
Cummings, Phil
Illustrator
Devries, Shane
Publisher
Scholastic Australia
Published Date
2015
Annotation
The setting for this picture book is rural Italy during World War II, as war encroaches on young Ricardo and his village. He hides his bike away, then retrieves it later from the rubble of his village.
Key Concepts
Empathy, History, Resilience, War
Audience
Primary
AC Links/EYLF
English, Geography, HASS, History, ACELA1475, ACELT1594, ACELT1596, ACELT1599, ACHASSK063, ACHASSK064, ACHASSK065, ACELA1487, ACELA1498, ACELT1602, ACELT1603, ACELT1605, ACELA1500, ACELA1502, ACELT1608, ACELT1609, ACELT1610, ACELT1612, ACELA1515, ACELA1518, ACELT1613, ACELT1614, ACHASSK138, ACHASSK139, ACHASSK140, ACHASSK141