Beyond Words: The Complexity of Translating Australian Picture Books
Dr Lara Cain Gray
Australians love an international success story! We take pride in the fact that many of our beloved children's stories are enjoyed by young readers around the world. But we don't always give a lot of thought to the many translators involved in that process. Translators make complex decisions about all facets of the book, to ensure they are well received in diverse communities. Using the NCACL's marvellous collection of translated editions, I am working on a series of case studies demonstrating the ways in which Australian picture books are translated for overseas markets.
To appreciate the complexity of releasing a book internationally, it's helpful to throw open the definition of 'translation' to include words, layouts, titles, cover designs, colour palettes, and visual narrative traditions, all of which can be viewed as languages, with their own grammars and conventions. Any or all of these elements might need translation as a book moves between markets. In some cases, a new edition is almost unrecognisable from the original; in others, seemingly inconsequential tweaks alter meaning in unexpected ways.


There are plentiful examples of cosmetic and linguistic alterations in the NCACL collection. Libby Gleeson and Freya Blackwood's Amy & Louis, for one, is known as Half A World Away in many regions and famously acquired a whole new conclusion for the US edition.
Aaron Blabey's Pig The Pug remains Pig o Pug in Portuguese, but becomes Carlos le Carlin in French and Chancho el Pug in Spanish. Names, of course, are highly culturally specific and rhyme schemes are one of the more complicated facets of children's publishing for translators.

Bob Graham's 2013 release Silver Buttons has been one of the more fruitful case study subjects. This book has been translated into multiple languages including Spanish, French, and Hebrew. Eight of these versions are held at the NCACL.
Silver Buttons tells the story of a girl, Jodie, who sits on the floor of her family home drawing a duck. Just as she is about to add one final silver button to the duck's boots, her little brother takes his toddling first step. At the exact same moment elsewhere around the world, a man buys bread, a soldier leaves home, and a baby is born. This is a deceptively simple, philosophical examination of life's small but significant moments, beginning with the button as a metaphor for little details.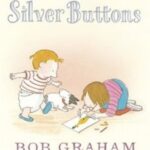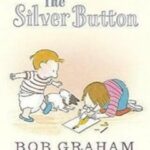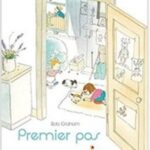 The original cover, a minor reworking of an internal image, depicts the story's significant opening scene. The US edition retains the cover image but changes the title to The Silver Button. It's a tiny change, offering a more literal interpretation of the opening scene, but arguably diluting the metaphoric word play.
The French edition makes several design changes, opting for a wide shot of a relevant internal spread on the cover. The title here changes to Premier Pas – 'First Steps' – which, again, erases the button metaphor and redirects the reader's activation of the story to focus on the toddler.
For other editions, the translation depends on which source material was the focus. Spanish is El Primer Paso (First Steps), whereas Italian is Bottoni d'argento (Silver Buttons).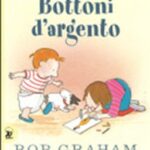 There is no linguistic reason why all three editions could not have been titled Silver Buttons. Similarly, there may seem little apparent value in changing the cover design. But 'translators', in this broad sense, make changes based on many competing market expectations. Translation is very rarely a simple case of swapping one word for another!
The NCACL houses a collection of 5,700 translated editions in 68 languages, largely thanks to generous donations from creators and publishers. This exceptional collection offers readers and researchers the rare and wonderful opportunity to compare international editions side by side, gaining a nuanced understanding of what 'international success' really looks like in the world of picture books.
Dr Lara Cain Gray is a librarian, researcher and picture book fanatic. She is Head of Acquisitions at non-profit education publisher Library For All, and reviews picture books on her website, laracaingray.com, and for other publications, including Story Links. Her guide to deep reading of children's literature, A Grown Up's Guide To Picture Books, is forthcoming with MidnightSun Publishing.
Posted by: NCACL | Published: 30 May 2023