The Longevity of Sticky tape!
by Bob Graham
This is my first Blog, so in my world I am stepping over another small threshold here. Forty years back my first book 'Pete and Roland' (1983, Nelson) needed just a short walk from Wynyard station to William Collins in Sydney to get the job done. Then, after finding Walker Books in London, I needed only a phone and a postie. Then fax came along, and I couldn't believe it, my drawings unfolding straight onto a desk in London!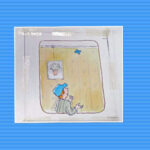 Since then, (laptop notwithstanding,) I have not been at the forefront of technical advances and a quick glance at my desk would show coloured inks, pencils, chalks, water colours, pens, paper, blockout film – and of course sticky tape, an essential component to holding much of my art and dummy books together (and regularly on the elbows of my sweaters.)
Through the medium of sticky tape can I now thank all at the NCACL. My work residing so safely up there in Canberra has been meticulously annotated, and so carefully documented as to include – quite regularly in a description of the work – "created as a large fold out booklet using sticky tape."
Indeed!
If I were to revisit much of my donated material in the collection, I would of course be looking at it in retrospect, with full knowledge of how it worked out (and sometimes it didn't); but inside the creative experience of putting a story together, of moving forward, or being becalmed, or not knowing just where you might be going, is something altogether different. Some days just walking around with a blindfold trying to pin a tail on the donkey.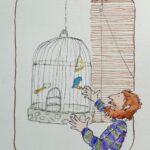 Sometimes I try and relinquish control and watch it happen in spite of myself. But I stress that it's not all fumbles, there are days I do know just what I'm doing and days my story goes like a runaway train!
I still get up every morning and go to my desk with a curiosity as to how it might all unfold – what it will it LOOK like! It's my hope that some of my strivings above can be seen in the collection, and that there is as much interest in the construction, the journey of it all, as in the destination, the finished book.
To Belle Alderman and all at NCACL who give their time, care and expertise to enable this large and ever growing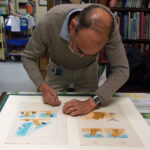 collection of Australian Children's Literature to be stored and accessed to the public, I am honoured to be in the company of such authors and illustrators past and present, and for my work to be included and made available to students, and book lovers who are curious enough to peek inside my working processes.
So there's my threshold stepped over, my first "blog!" A new word in my lexicon, perhaps it might qualify for Scrabble?
Bob Graham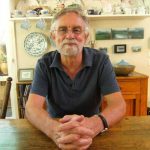 See also:
Graham, Bob
Bob Graham Medals, plaques, certificates held in the NCACL collection
Graham, Bob | artwork | book week 1987 | 1992 |2013 | books | finding aid| Pommes d'api | Les Belles Histoires

And NCACL's advice Looking after your papers
Posted by: NCACL | Published: 29 Aug 2023